Top 5 tricks to achieve the best 'Broken Plan' kitchen design
While there is a growing desire for more open space living, there is also a desire to be more creative with that big open space, breaking it down into zones or what has been termed 'broken plan' living. More homeowners want to remove walls, install folding / patio doors and incorporate islands.  It isn't that hard to create a 'broken plan' space and Sinead Trainor, Kitchen Category Manager from LochAnna Kitchens, sheds some light on 5 easy solutions to help you optimise a broken plan kitchen design.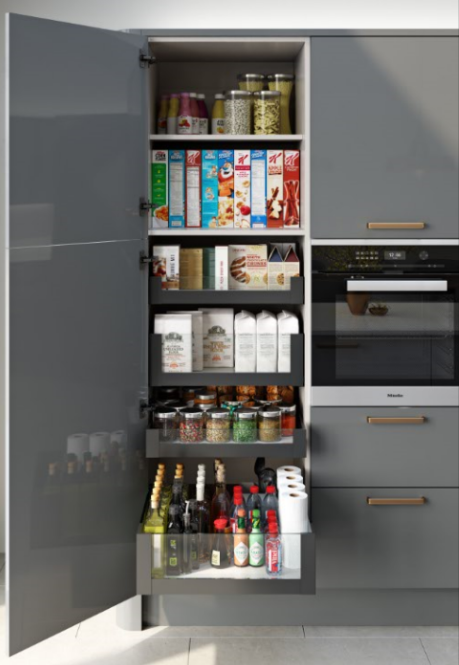 With broken-plan living spaces becoming more popular, consumers need to take even more consideration over the best ways to optimise on storage space in a way that fits in with their own personal style and vision. Solutions such as internal drawers or tall corner larder cabinets can be a great way to offer a discreet look that makes the best use of space in the kitchen and other areas.
2. 'Hybrid' Storage Solutions
A new 'hybrid' storage solution is becoming increasingly popular in the kitchen area too. Imagine a cupboard that features workspace. Homeowners who do not want small appliances on display, such as food processors and coffee machines, can now consider spacious cupboards that feature deep shelves, they can even incorporate plug sockets inside the unit. When they have finished using the appliances, they can simply shut the door on it (as illustrated in the image below).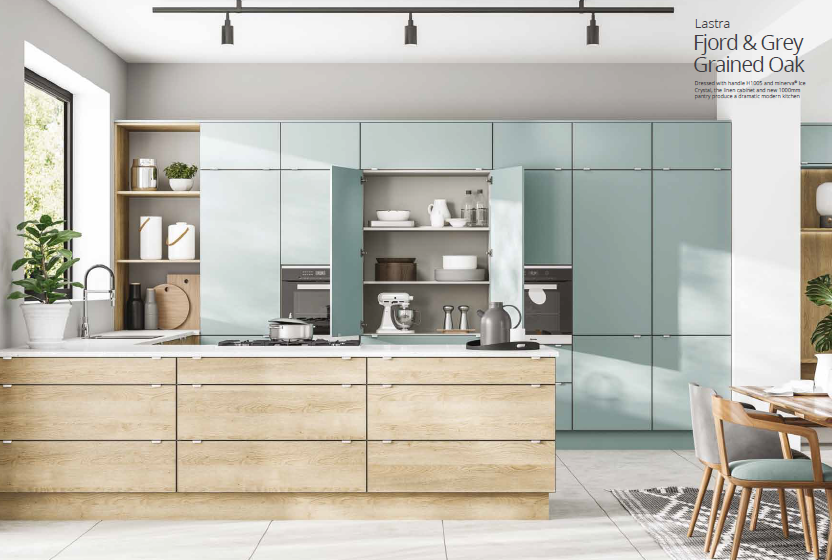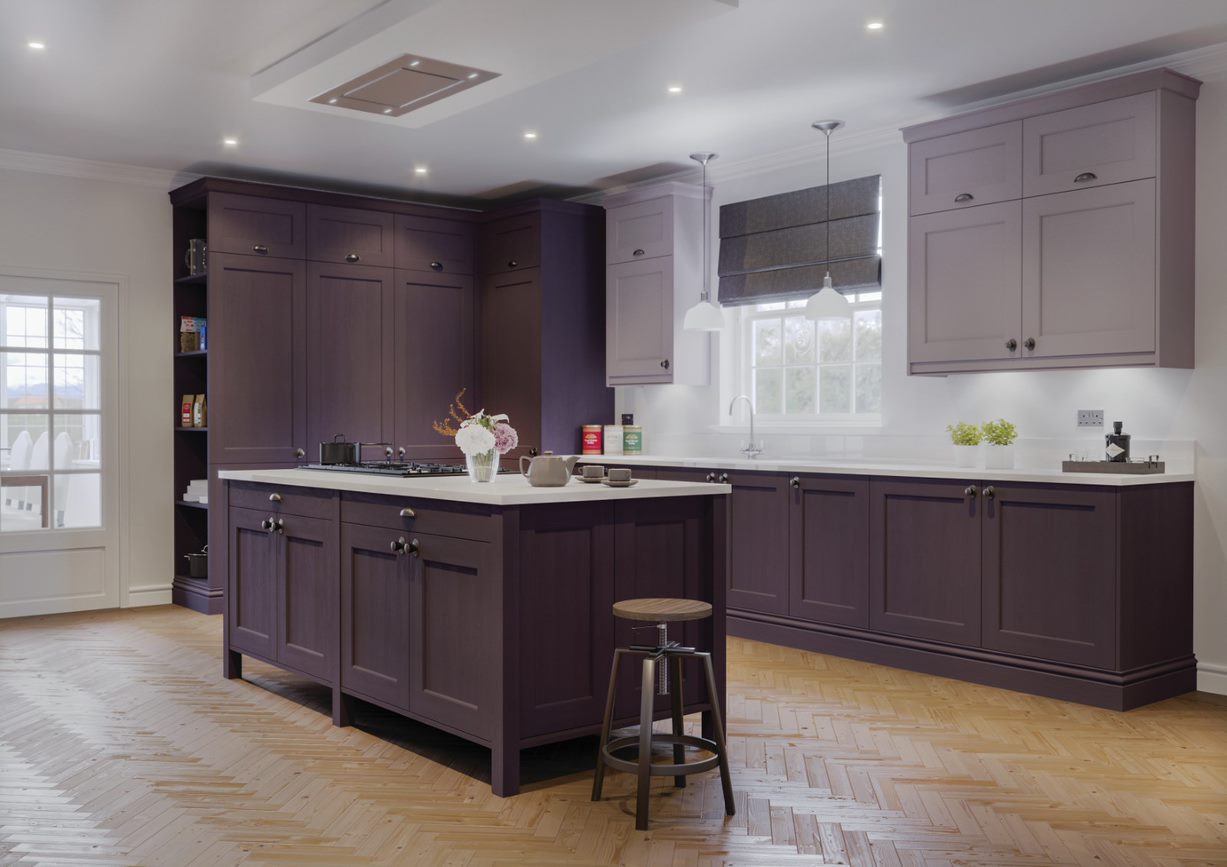 Consumers who seek broken plan living should also consider investing in kitchen furniture and appliances that double up in their functions. For example, an island can work as both a storage area and a preparation area and can be oriented in such a way that allows the person doing the cooking to interact with the rest of the family. As well as being an iconic design element for the home, the island includes cupboards that are a useful place to keep pots, pans or food. Larger islands also mean that a hob or sink can be fitted in as well, again utilising every inch of surface space.
Designers are increasingly utilising kitchen furniture to create bespoke storage in areas outside the kitchen space. If we consider a broken plan space in which a family room borders the kitchen area, designing a media centre or storage area in the same finishes as the kitchen is perfect to achieve a cohesive look, whilst creating a space that feels separate. This is demonstrated in the image on the right: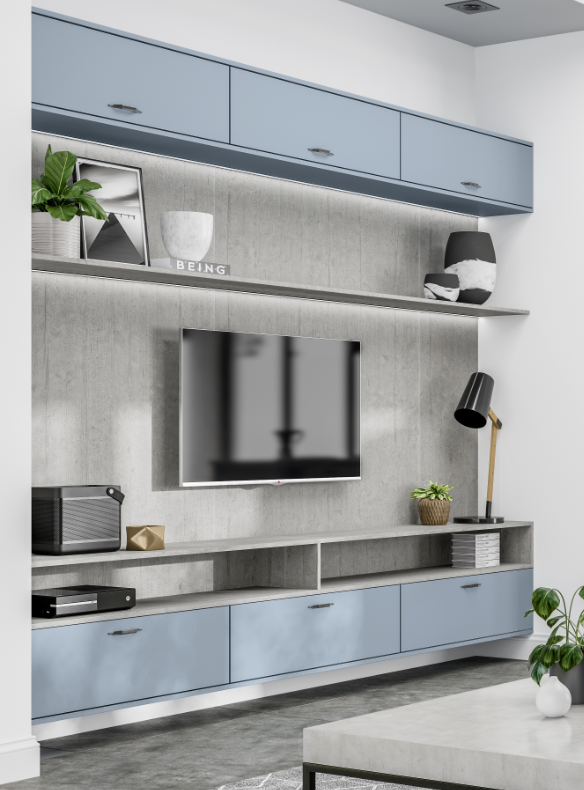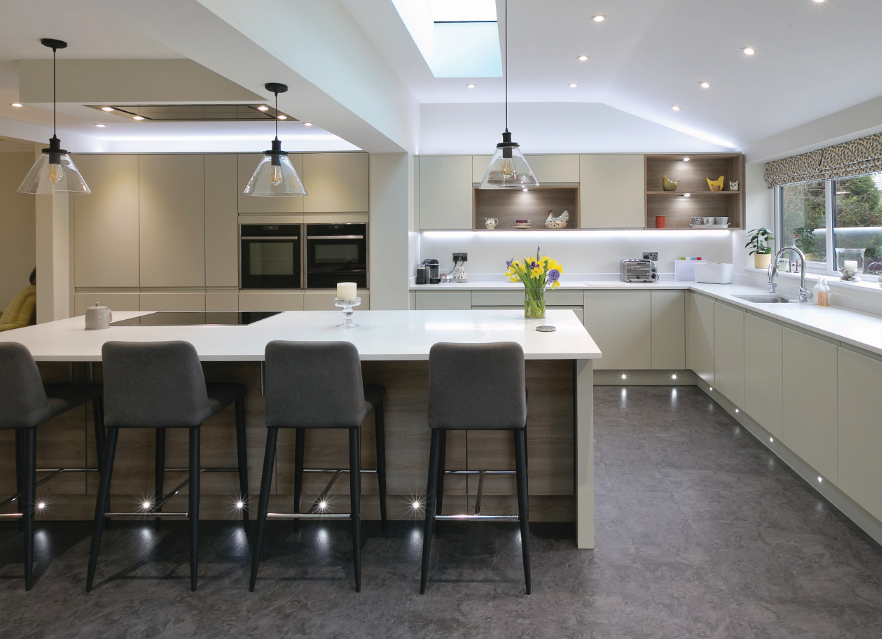 A breakfast bar in the kitchen is the perfect way to divide space, whilst keeping the social aspect of open plan living. Creating a design that incorporates storage and even a hob or sink, as well as seating, ensures that homeowners make the most of the available space. Many broken plan kitchens incorporate this informal seating area in addition to the more formal dining table where the whole family can gather.